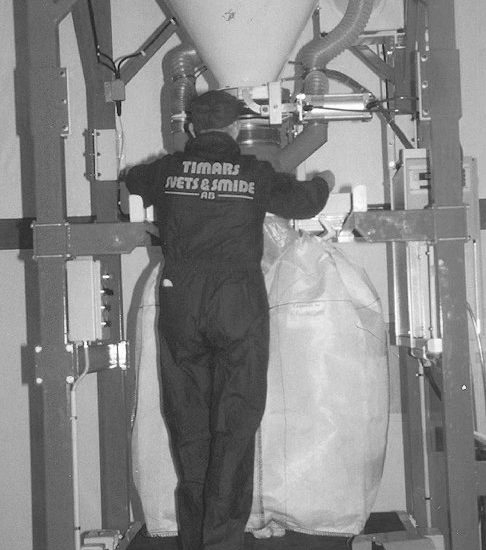 Timars AB was founded in Falkenberg, Sweden, in year 1976 by Timar Gustavsson.
Mr. Gustavsson had worked as a mechanic and electrician on the sea but was back at his hometown and worked as a mechanic and welder. The company was first founded to support local companies in Falkenberg.
Timars – From Past to Present
From Land to Sea

At the age of 35, Timar Gustavsson disembarked at the port of Falkenberg after several years at sea. The year was 1978, and his life as a mechanic and electrician on the ocean was behind him. He brought with him a wealth of knowledge that would later become Timars Svets och Smide.

It all started in a garage

Together with three friends who were also welders, he rented a workshop and earned a living by providing support to local businesses in and around Falkenberg.

Friends in Australia

Thanks to all the encounters with people on different continents, he maintained connections and continued to exchange knowledge and experiences. Sven-Olof, a friend he met at sea, was working with lifting hooks at a shipping company in Adelaide, Australia, at the time. He suggested that Timar should manufacture lifting hooks in Sweden for further export to Russia.

1984 - The first Container Spreader

A couple of years later, in 1984, the first Container Spreader was delivered from Australia to Västerås, and shortly thereafter, the spreaders began to be exported. As the years passed, inquiries increased, and Timars grew larger and larger in both the international and domestic markets. Ideas flowed at the drafting table, the container spreader evolved, and soon new product areas also emerged.

Igelfors mill - genuine quality

Two miles north of Finspång lies Igelfors. The name originated from Sven Igelström, who was the first blacksmith in the area in the mid-19th century. Igelfors forge is primarily associated with scythe manufacturing. However, as agriculture transformed, Igelfors gradually shifted towards developing and processing forged components for external companies. For Timar, quality was paramount, and the steel in Igelfors was well-known for its durability, high quality, and circular properties. Using Timar's designs, the forge crafted the twistlock locking mechanism, which became unique as it was forged in a single piece.

A new product area is emerging

A man named Yngve Hallberg appeared in the workshop. He was a salesperson for fish process equipment, and Timar took on the task of assisting him in assembling, modifying, and adapting the "vibration grader" for the Kingston boat. Shortly thereafter, the company went bankrupt but was acquired by Timar, leading to the introduction of an entirely new product category.

The workshop established

In 1990, Timars established their workshop at the current location on Industrivägen 12 in Falkenberg. A year later, they built their first paintshop adjacent to the workshop. The paintshop was subsequently acquired by Industrilackeringen, which remains Timars' partner for surface treatment, including blasting and painting.

Magyar tank trailers - establishment

In 1995, Timars took on the agency for Magyar tank trailers, leading to the establishment of Timars Trade. This marked the inception of Timars Trailer Workshop, accompanied by significant orders of tank trailers for the Swedish market.

Timar Gustavsson ends his career

Timar concluded a successful chapter in his career with Timars. Between 2009 and 2014, Timars underwent a generational transition, culminating in Timar Gustavsson's departure from Timars Svets och Smide in 2014, as he handed over the reins of the company to Mikael Strandh and Peter Stenbeck.

2020 - Acquired by Ambergate Invest AB

Ambergate Invest is a stable and long-term owner, providing a home for small and medium-sized companies to thrive in the best possible way. Together, we are strong. We consistently invest time, expertise, and capital in our companies to ensure high competitiveness and thereby secure the future and growth of the company and its employees.

Ambergate Invest AB- vision

A competent and long-term owner for small and medium-sized businesses, enabling them to achieve their full potential.